About Batumi
BAU International University, Batumi is located in one of the most beautiful cities in Georgia, Batumi that is an administrative center of Ajara Autonomous Republic. The city population is around 180 thousand. Batumi is characterized by favorable climatic conditions. Winters are mild and summers are hot here. Batumi also boasts safe environment that is proved by numerous international surveys where Georgia is nominated as one of the safest countries in the world.
Batumi is a vibrant, lively and popular tourist destination on the coast of the Black Sea. Batumi's juxtaposition of ancient and modern architecture, its historical port, serene botanical garden, Seaside Boulevard, European squares and streets - not to mention its world-class hotels, restaurants, cafes and bars - make up the face of modern Georgia.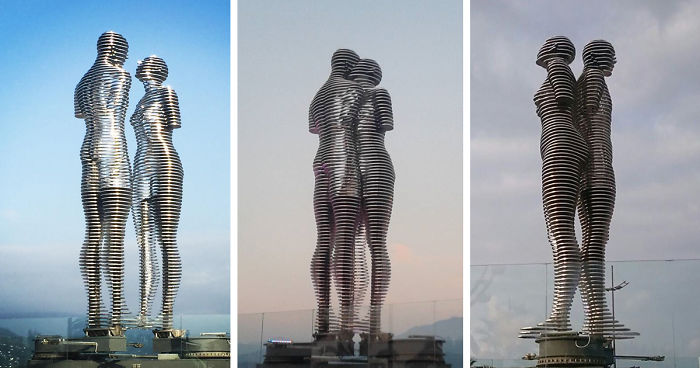 "Ali & Nino" - Monument in Batumi
Nowadays, Batumi is a cultural center in Georgia hosting numerous international festivals with participation of famous musicians and artists.
Costs of living
Despite the fact that Batumi is one of the most distinguished tourist destinations on the Black Sea hosting up to 1 million visitors each year, living is quite affordable here. Your living costs will vary significantly dependent on your lifestyle. Estimated costs of living are as follows:
500-800 GEL
Rent of a flat
Accommodation
For now BAU International University, Batumi does not provide a dormitory for students. Hence, majority of students prefer to rent private flats.